Web Site Hosting: In-house vs. Outsourced
For small to medium sized businesses, outsourcing your web site hosting is simply a better finanicial decision. The COST savings are significant to host with a professional web site hosting company.
For ANY sized business, an off-site web site host is a more SECURE solution.
For a low monthly fee, you stake claim to your own virtual real estate on the Internet. No maintaining servers that have to run 24/7, no expensive software purchases, and no technical knowledge needed to do so.
Here's a typical hardware and software setup for an eCommerce site:
In-House
Typical Web/Database Server Hardware
$5,000.00
Windows Server software
$1,000.00
ColdFusion Standard Server software
$1,295.00
Email Server software
$5,000.00
MS SQL Database Server software (Two CPU)
$10,000.00
Battery Backup (UPS)
$750.00
T1 Line w/ Cisco Router
$1,200.00 /month
Microsoft Certified Professional (Technician)
$45-65K /year
Microsoft Certified System Engineer (MCSE)
$60-85K /year
Outsourced
CF/SQL/Web Hosting with Jackson Technical
$75.00 /month
These prices are typical retail prices, you may pay more or less, need only some or all of the functionality listed, but the point has been made.
But what if you CAN host your own web sites In-House... does that mean you SHOULD?
Let's assume you have a stable (even redundant) broadband Internet connection, a server that you can use to host your site, and the staff to support it...
HOSTING YOUR WEB SITE FROM YOUR LOCATION IS INHERENTLY INSECURE.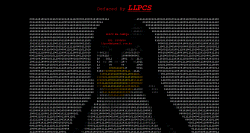 Actual screen shots of defaced web sites from self-hosted customers
You can purchase the most expensive firewall on the market, be diligent about analyzing your server logs, applying the latest service packs and hot-fixes, and create extensive Internet traffic filters...you still open up your organization to unauthorized access of your internal and confidential files.
While you do a great job of protecting your organization from known threats... what about the bugs, hacks, and misconfigurations that haven't been discovered and patched yet? These are the threats that only hackers and their tight knit circles know about.