"How-To" Tutorials: How to connect Auvik to Ubiquiti devices using SNMP v3 to UniFi controller
Auvik Support provides this How-To article to connect to Ubiquiti devices through the Unifi controller using SNMP v1:
https://support.auvik.com/hc/en-us/articles/360000842663-How-to-enable-SNMP-on-Ubiquiti-devices-using-the-UniFi-controller
But what what if you have a security need to use SNMP v3?
Unfi just gives simple Username and Password fields:

I could not find an Auvik document on the matter, but this Ubuqiti Community post led me in the right direction:
https://community.ui.com/questions/Unifi-SNMPv3-authorization-error/58da50b6-668f-4982-8bdc-e008c524f662
So, that gave some good info that it was SHA and AES (unspecified). With some playing around, I found it's SHA and AES-128 with the Auth and Privacy Passhrase being the same: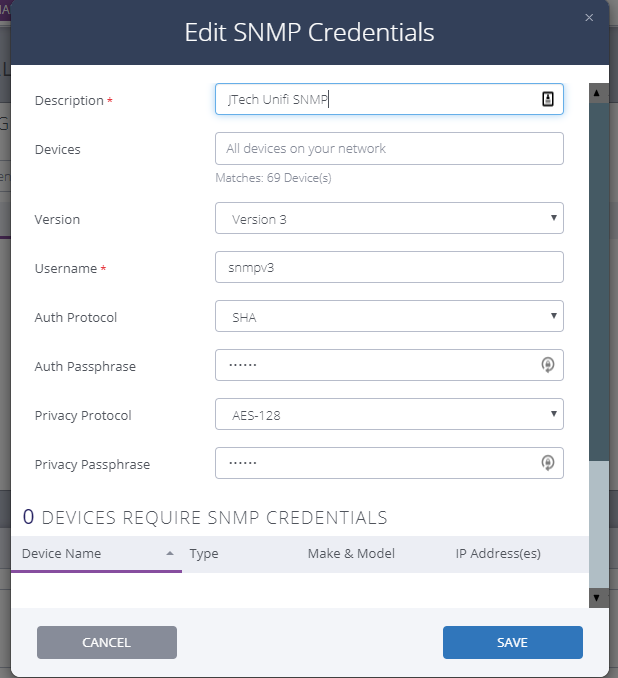 We just used an SNMP username of snmpv3 but you can use your own preference.
Once you've given Auvik time to retry the authentication, it connects!

Hope this helps you out!
This article viewed 9827 times as of 09/30/2023 --- First published on 01/26/2020 --- Last modified on 01/26/2020


Note: Some of our articles were originally published several years ago. There may be errors or newer information. If you find an error, please use the Contact page to let us know. We create these articles as a public benefit to our fellow IT Support and network administration professionals.