3CX Phone System Support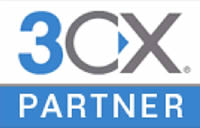 3CX Phone System is a software-based IP PBX for Windows which replaces traditional PBX hardware phones. It is based on the SIP standard and supports standard SIP software / hardware phones. It allows calls to be made via a VOIP service provider or via the regular PSTN. Easy to install and configure, it includes a web-based configuration interface, voice mail, auto attendant, call hunting and other features. Both commercial and a free edition are available.
Why 3CX?
Easier to install & manage via web-based configuration interface
Far less expensive to purchase and expand than a hardware-based PBX / PABX
No need for separate phone wiring - phones use computer network, easy hot desking!
Delivery mobility by allowing employees to work from home using a remote extension
Choose between popular IP hardware phones or softphones - no vendor lock in
Receive & Make calls via the standard PSTN using VOIP Gateways or cards
Save on monthly call costs using SIP trunks, VoIP providers or the Skype gateway
Jackson Technical can intall and configure 3CX using analog lines, SIP, or traditional T-1 lines. We can connect 3CX to most any type of phone service allowing your company complete flexibility.

Contact us today so our highly trained and 3CX Certified experts can assist you in purchasing and configuring your telephony network.